Gadar 2 Trailer: Sunny Deol Tells Pakistanis Bheekh Bhi Nahi Milegi in His Larger-Than-Life Fashion

The Gadar 2 trailer hit the screens on Wednesday with Sunny Deol and Ameesha Patel reprising their iconic characters. The fight against Pakistan remains the same and Sunny continues to do his larger-than-life action. Here's the full review.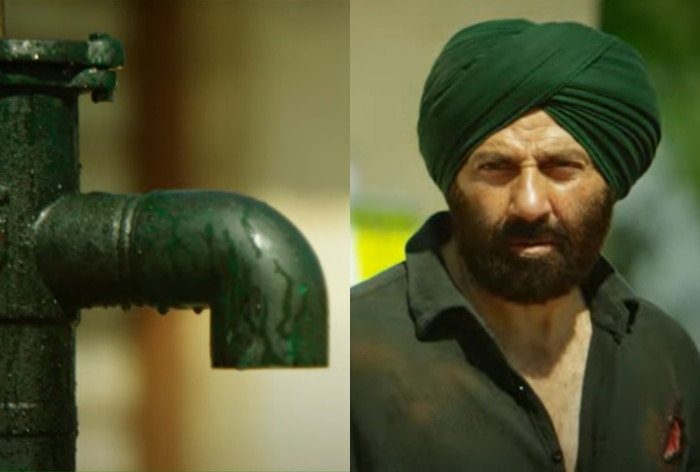 The Gadar 2 trailer is here and it's a big treat for the fans of Sunny Deol. The trailer promises the same excitement that the viewers experienced after watching the first film 23 years back. Tara Singh goes on a mission once again. This time, to bring back his son – Jeete who is all grown up and is being tortured by the Pakistani army. As Sakeena (Ameesha Patel) tells Tara Singh 'mujhe mera beta chahye', he begins his journey full of action, heavy dialogues, and a lot of jingoism.
Director Anil Sharma has made sure to redo the same emotions, romance, and family values that he did in his first film. Nothing in the trailer hints at anything new, except for the fact that Tara and Sakeena have fallen deeper for each other with time. He still sings the romantic melody 'Udd Ja Kaale Kaavan', and she continues to adore him like the doting wife.
The highlight of the trailer remains the grand scene which reminds you of the tremendously viral scene featuring Amreesh Puri's Ashraf Ali trying to convert Tara outside a Masjid. This time too, Tara schools the Pakistanis by telling them how India is a great country, and half of Pakistanis will agree to move here if given a chance. "Kisce azaadi dilaoge tum? Agar yahan ke logon ko dobaara mauka mile na Hindustan me basne ka, toh aadhe se zada Pakistan khali ho jayega. Katora le ke ghumoge, bheekh bhi nahi milegi…" – he says.
Watch The Action-Packed Trailer of Gadar 2 Here:
Sunny and Ameesha appeared in character at the grand trailer launch in Mumbai on Wednesday. The two even twinned in bright shades of red as Ameesha wore a Pakistani suit and covered her head while Sunny wore his turban with a red shirt and a blazer.
Gadar 2, also starring Anil Sharma's son Utkarsh Sharma as the grown-up Jeete, is slated to hit the screens on August 11. The film will be facing a Box Office clash with Akshay Kumar starrer OMG 2 and Rajinikanth's Jailer which releases a day prior. Watch this space for all the latest updates on Gadar 2! Your thoughts on the trailer though?

#Gadar #Trailer #Sunny #Deol #Tells #Pakistanis #Bheekh #Bhi #Nahi #Milegi #LargerThanLife #Fashion