Varun Dhawan Takes an Indirect Dig at Oppenheimers Bhagavad Gita Row While Defending Holocaust Reference in Bawaal

Varun Dhawan recently took an indirect dig at Oppenheimer's Bhagavad Gita row while defending 'holocaust' reference in 'Bawaal'.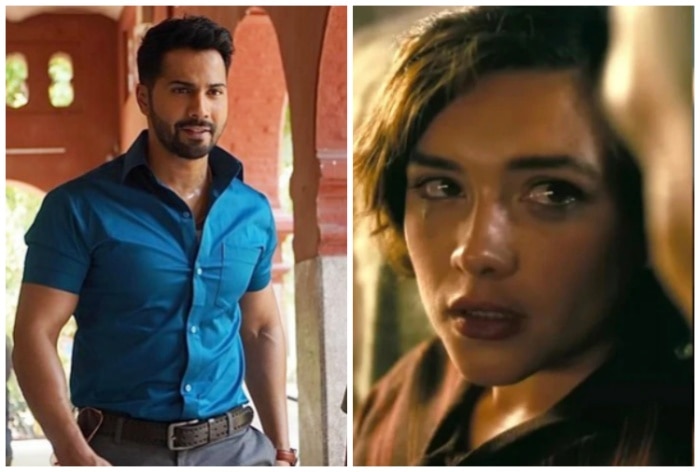 Varun Dhawan Reacts to Oppenheimer's Bhagavad Gita Row: Varun Dhawan was recently present at a promotional event while speaking about his recently released romantic-drama Bawaal. The Nitesh Tiwari directorial came under huge criticism over the 'Auschwitz' and 'Hitler' references in the movie. The audiences on social media had reacted to the use of gas chamber sequences from World War 2 while drawing parallels with a couple's marital dispute. Netizens slammed the makers of Bawaal for being insensitive towards the greatest tragic event in world history. While addressing the issue of 'holocaust' in his film, Varun also indirectly commented on the ongoing controversy over Oppenheimer's sex scene.
VARUN DHAWAN TAKES AN INDIRECT DIG AT OPPENHEIMER'S CONTROVERSIAL SCENE
The dialogue "every relationship goes through its Auschwitz," didn't go down too well with a section of audiences and film critics. Varun, in an interview with Pinkvilla opined, "Some people got trigged or sensitive about this. But I don't understand where that sensitivity or trigger goes when they watch, suppose an English film, I'm saying for example. They're allowed to do everything there, they're allowed to take leaps and they're allowed to show things in a certain way, but you'll find that correct. I know people have got very triggered after watching a small scene in a brilliant film, recently released. It's a scene that's important to our culture and our country. But that's okay for you. You don't feel they should be more sensitive to you? So where does your criticism go then?"
A section of netizens has bashed Oppenheimer over a scene where the protagonist portrayed by Cillian Murphy is having sex with Florence Pugh's Jean. When Jean walks to the bookshelf and picks up the Bhagavad Gita. After being failed to understand the language, she gives it to Oppie to read as they engage in intercourse. While the act of intimacy is clear in the Indian version of the film, no nudity is shown.
Bawaal also stars Janhvi Kapoor, Manoj Pahwa, Mukesh Tiwari and others in crucial roles.
For more updates on Varun Dhawan and Bawaal, check out this space at India.com.

#Varun #Dhawan #Takes #Indirect #Dig #Oppenheimers #Bhagavad #Gita #Row #Defending #Holocaust #Reference #Bawaal